Brian Houghtaling focuses his practice on residential and commercial property insurance claim disputes. From Hurricanes Katrina, Ike, Gustav, Isaac, Sandy, Maria, Harvey, Florence, Laura and Delta, he has personally handled over 6,000 property claims resulting in more than $125 million in funds for his clients.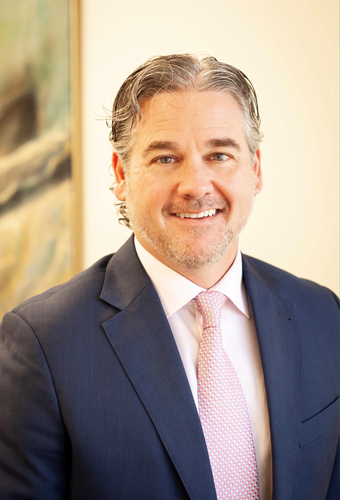 As a native New Orleanian, Mr. Houghtaling and his family were victims of Hurricane Katrina. The unjust treatment his family, friends and neighbors received from their insurance companies led Mr. Houghtaling to dedicate his work to helping those affected by unfair insurance practices. He handled over 1,000 Hurricane Katrina claims resulting in millions in recovery for his clients.
Most recently, Mr. Houghtaling handled over 1,000 New York and New Jersey Hurricane Sandy claims. During Hurricane Sandy litigation, Mr. Houghtaling was the attorney who discovered a fraudulently altered engineering report. The report had been deliberately changed in order to wrongly deny a policyholder's claim for structural damage. Mr. Houghtaling confronted the National Flood Insurance Program head on with undeniable proof of fraud perpetrated on Sandy victims. This widely publicized discovery dramatically impacted the lives of thousands of Hurricane Sandy victims, and the flood insurance industry at large. Mr. Houghtaling's revelation about the rampant fraud and underpayment in the National Flood Insurance Program led to FEMA's public admissions of wrongdoing and the re-opening of over 144,000 previously closed flood claims. Mr. Houghtaling's relentless efforts on behalf of policyholders changed the course of history for FEMA and the National Flood Insurance Program.
Mr. Houghtaling's litigation experience also extends beyond property insurance. He was a passionate and effective advocate for Gulf Coast residents and business owners who suffered damages as a result of the BP Oil Spill. Mr. Houghtaling is an avid fisherman and owns shrimp and oyster businesses in Louisiana, both of which felt the effects of the BP Oil Spill. Mr. Houghtaling represented fishermen, residents and businesses along the entire Gulf Coast in an effort to find justice after a tragedy that personally affected him and so many Gulf Coast natives.
With both law and Master of Business Administration degrees, Mr. Houghtaling brings a depth of knowledge to his practice. Mr. Houghtaling earned his Juris Doctor at the Loyola University School of Law and a Master of Business Administration and a Bachelor of Science at the University of New Orleans.
Mr. Houghtaling was admitted to the Louisiana bar in 2006 and is licensed to practice before the U.S. District Court for the Eastern, Middle and Western Districts of Louisiana and the Southern and Eastern Districts of Texas. He is a member of the New Orleans, Louisiana, American and Federal Bar Associations, the Louisiana and American Associations for Justice, the National Association of Public Adjusters, the National Apartment Association, the Apartment Association for Greater New Orleans and the Sigma Iota Epsilon Management Fraternity.
CONTACT
Tel: 504.901.6767
Email: [email protected]