As an Attorney for the Houghtaling Law Firm, Tucker McGill uses his lifelong knowledge of Property Damage Claims to fight back against the unjust practices of Insurance Companies.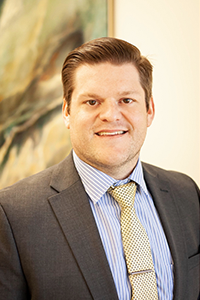 Growing up in Mobile, AL, Mr. McGill has experienced many hurricanes. He understands the devastation that these catastrophic events cause. As the son and grandson of two long-time Flood Insurance Adjusters, and a Flood Adjuster himself, Mr. McGill has a unique background that provides actual knowledge and experience in property insurance claims that has been a driving factor in his early success, making him the perfect attorney to represent you against your Insurance Company. 
Mr. McGill attended St. Paul's Episcopal School in Mobile. He received a full academic scholarship from the University of Alabama, where he graduated with a Business Management degree specializing in Entrepreneurship. After graduating from Alabama, Mr. McGill took a year off to study for the LSAT and apply for Law School. While studying for the LSAT, Mr. McGill attended the NFIP Flood Seminar in Mobile, AL and became a certified NFIP Flood Adjuster. He then received a full Academic Scholarship to Texas A&M University School of Law in Fort Worth, TX.
During the summer after his first year of law school, Mr. McGill interned for Mr. Houghtaling, researching Business Interruption claims related to the Covid-19 pandemic. The summer after his 2L year, he worked as a law clerk for another New Orleans-based law firm focusing on Hurricane Laura Delta insurance claims. During the first semester of his 3L year, Mr. McGill participated in Texas A&M's externship, where he worked at another New Orleans-based law firm working on Hurricane Ida claims.
After graduating from Texas A&M, he moved to Louisiana to begin his career as an Attorney for the Houghtaling Law Firm.
Mr. McGill was admitted to practice law in Louisiana on May 1, 2023, and has proven to be a valuable asset for the Houghtaling Law Firm.
EDUCATION
University of Alabama – Bachelor of Science, Business Management/Entrepreneurship – May 2018
Texas A&M University School of Law – Juris Doctor – May 2022
Admitted to Practice Law in Louisiana – May 1, 2023
CONTACT
Tel: 504.901.6765
Email: [email protected]